I've been meaning to make a new Things I'm Loving feature so I can share things other than food every once in a while – fashion, books, workouts, etc. – but it's taken me a little longer than I intended to get it going!  I've been whipping through books as I used up every last bit of free time I had while not working (officially start my first pharmacist job tomorrow!), and I've gotten a few things lately that I'm totally obsessed with, so it's finally time for a Things I'm Loving post!
I also got to use my shutter remote for my camera, which I got last spring and never really used up till now.  Just ignore it in my hand in a few of the photos – I still haven't figured out how to get it to read the signal without it showing! 😉  Just so everyone knows with full disclaimer, this post contains affiliate links, so if you click through my link and make a purchase, I will either make a little money or get points from the company (depending on the product).  As always, though, these are products I love, and all opinions are my own.  Now, to my favorite things currently!

1.  Shadows of Self by Brandon Sanderson – One of Alex's friends recommended Brandon Sanderson's Mistborn Trilogy to me a long, long time ago, and I finally got around to reading it just last month.  I've now been devouring ALL of Brandon Sanderon's books as fast as I possibly can.  He's that good.  Shadows of Self is a Mistborn novel that takes place a couple hundred years after the Mistborn Trilogy, and it was just released on October 6th, so I made sure to preorder a signed copy.
Brandon Sanderson has a whole slew of books that are all within the same universe called the Cosmere, and they all have bits and pieces that tie them all together – although they can easily be read by themselves – with the bigger picture story tying EVERYTHING together being years down the road in another series.  My absolute favorites so far are definitely the original Mistborn Trilogy and Elantris, with The Alloy of Law (the first Mistborn sequel novel before Shadows of Self) coming very close.  I basically just listed all of his books I've read so far.  Haha.
Basically, to sell you on these books, think fantasy with really awesome magic systems with a bit of science and some REALLY awesome characters.  The witty banter in these books is like no other author I've ever read (except maybe JK Rowling), and that's basically my number one favorite thing…ever.  If you're new to his books, I recommend starting with the Mistborn Trilogy and then checking out Brandon Sanderson's website to discover all the others.  He has annotations for a lot of the books, which are really fun to read (after reading the books) to see his writing process.  He also sells signed copies from his site, so if you start them and fall in love like I did, I'm really sorry about emptying your bank account.  😉
2.  LC Lauren Conrad Scalloped Ballet Flats in Blush – I fell in love with these shoes last spring, and I waited until I had a coupon to buy them (Kohl's always has tons of coupons).  How cute are they?!  I decided on the blush color as a nice neutral so they could be worn with basically anything, but they now have a ton more colors that make me want to buy all of them!  They were a little bit uncomfortable first, like most flats, but once they're broken in, they are extremely comfortable.  Wear bandaids on your heels for the first day, and then you're golden!  Some of the colors are also on sale right now, so that's another plus!
3.  Evy's Tree Diana Wrap in Black Olive – I finally took the plunge and bought myself this beautiful cardigan-style hoodie as a celebration gift to myself for finding a job.  I then immediately bought the Diana Wrap in Aluminum from a resale group on Facebook – I love it that much.  I usually just drool over the beautiful photos on their Instagram page and never actually buy, as the hoodies are a bit pricy.  These luxury hoodies are so beautiful, they're definitely worth it, especially if you find them on sale!  They usually release hoodies roughly once a week or so, but since they didn't have a new release this week, they actually put the Diana Wrap and a bunch of their other hoodies on sale!  They usually sell out really quickly, so if you're interested, I'd jump on it now.  If you want an extra 10% off of your order, click through this link to get even more savings!!
4.  Vega Essentials Chocolate Nutritional Shake – I've been looking for a good post-workout shake, and I got really excited when Target starting carrying Vega products.  I've heard a lot of great things about Vega One shakes, but they're mega expensive (although not nearly as bad as Shakeology, haha).  This shake, made just for Target, is pretty similar to the Vega One shake, just not as many servings of vegetables, which is fine by me.  It has 20g of protein, so it's perfect after a workout, and it's filling enough to have for breakfast on-the-go some days.  My favorite way to have it is to blend the chocolate powder with 3 ice cubes, one tablespoon of peanut butter, and either almond milk or whole milk (about a cup, I think).  I'll also add a handful of spinach if I'm feeling some extra veggies.  The vanilla is also pretty decent with cashew butter.  And no, I was not paid to say any of this.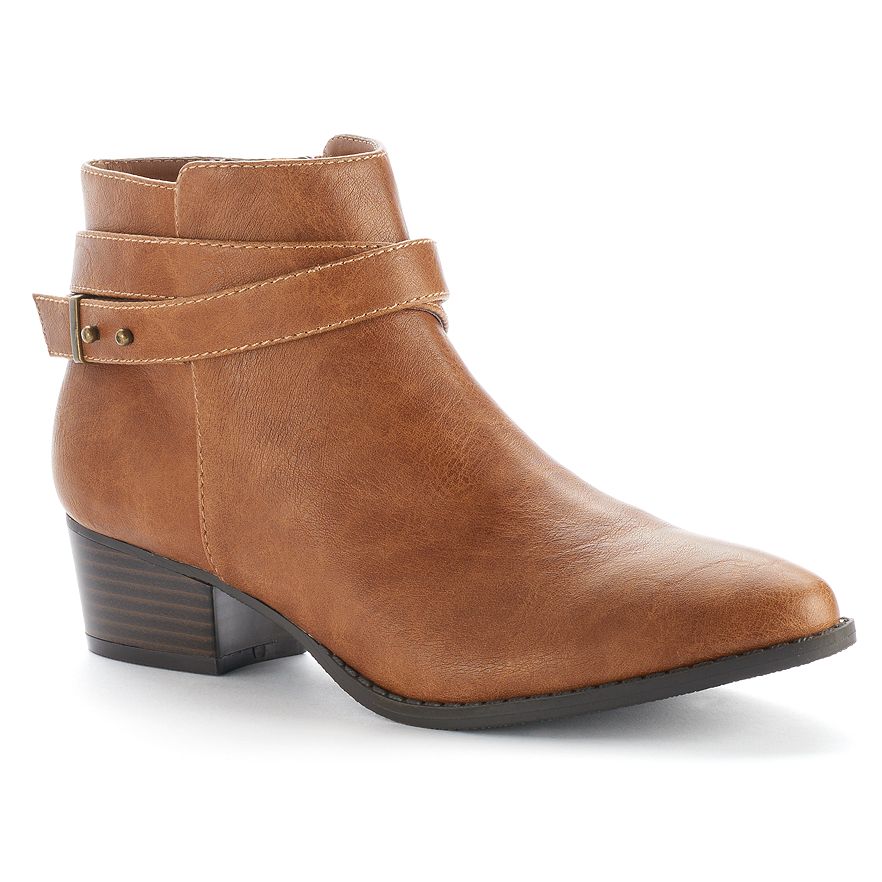 5.  LC Lauren Conrad Strappy Ankle Boots – I have not purchased these yet, but I have been eying them up for a month or so.  They're currently on sale (and I have a 30% off coupon that starts tomorrow), so I'm going to probably purchase these this weekend!  I might just get the black pair as well since they're so cute.  They're great for the fall with skinny jeans, and I can easily wear them with my skinny trousers to work.  Hopefully they're comfortable enough for standing on my feet for hours! 🙂 I'll update this post once I buy them.
6.  The Elephant Pants – I love, love, love how comfortable these pants are!  And they're not crazy thick so they're perfect for basically every season other than the dead of winter.  What's awesome about these pants is that they donate a portion of every sale to the African Wildlife Foundation to save the elephants.  They don't have this pair in stock right now, but they have a ton of other cute ones!  I have this pair and a pair in purple, and they're definitely not the last ones I'll be buying.  Alex hates when I wear these because he thinks I look ridiculous, but when I go out with them on, I usually receive a bunch of compliments, haha!  One pair that I received tore right away, and the customer service team was awesome in quickly sending me a replacement pair.  Great company!  To save 15% off your order, use code 'cookingalamel' at checkout!
7.  Chosen Foods Chia Bites – I'm all about healthy snacks to keep me from getting hangry throughout the day, and these bites fit the bill perfectly!  Full of protein, healthy fats, and fiber – a perfect snack.  The company kindly sent me some samples to try, and I'm looking forward to having them for snacks at work!  They only have vanilla and mango flavors currently – the vanilla is my favorite, as it kind of tastes like a nutty piece of cake.  🙂  Get free shipping with your order using the code 'CFSHIPS15' at checkout!
8.  The Pioneer Woman Collection at Walmart – Ree at The Pioneer Woman is so funny, she has amazing recipes, and now she has a beautiful cookware line!  I love all of it – the plates are so gorgeous.  Because I really don't need many new kitchen items, I've been buying one thing here and there when I go to Walmart for other things.  I have two different Flea Market mugs, this beautiful pitcher, and the teal stock pot.  That should probably be all I buy, but that probably won't be all of it… it's all just so pretty!
Hope you enjoyed this little peek into a few of my current favorite things!  What are some things that you're loving lately?